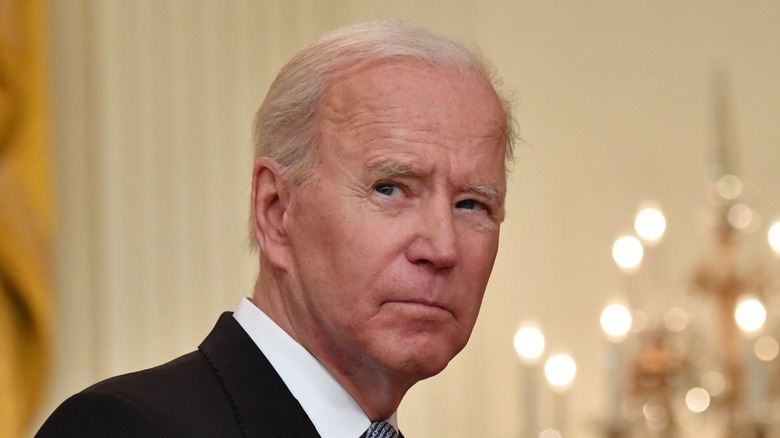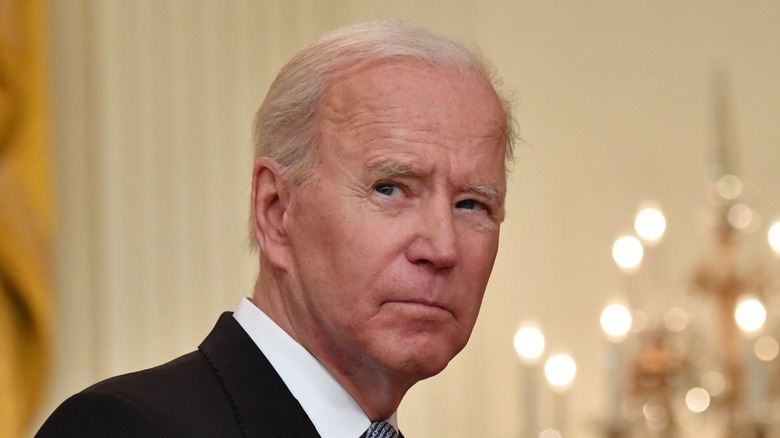 Shag 7799/Shutterstock
The U.S. government hasn't been a fan of the crypto industry, owing to all the volatility that has evaporated over $1 trillion so far, plus the risks of scams and criminal activities that come with it. After years of intense lobbying and concerns relayed by agencies, the White House has finally released a detailed framework that aims to dictate the future of digital assets in every possible way.
The focus is on responsible development of digital assets, promoting private sector research, and fostering inter-agency collaboration across the board. The key objectives, according to the administration, are "consumer and investor protection; promoting financial stability; countering illicit finance; U.S. leadership in the global financial system and economic competitiveness; financial inclusion; and responsible innovation."
One of the most notable aspects of the White House framework notes that President Joe Biden is considering asking Congress to amend the bank Secrecy Act and other related laws to bring digital assets into the fold. This would cover cryptocurrencies as well as NFTs, in particular. Congress might also discuss whether penalties related to unlicensed money transfer should be hiked to the same level as rules covering other money laundering-related acts.
Decisive auditing and an in-house coin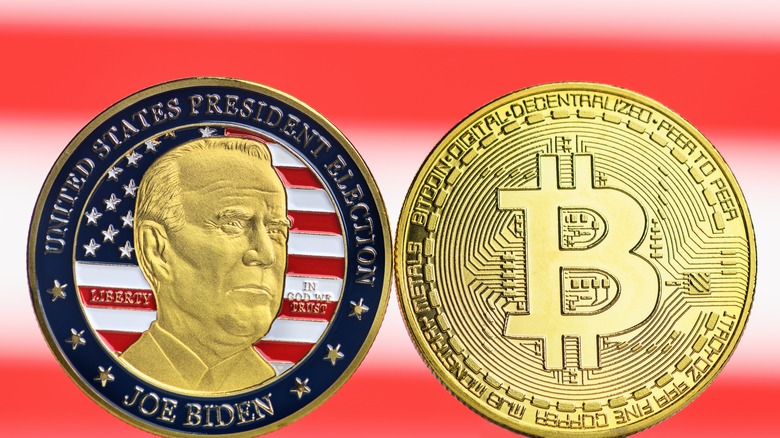 Bk87/Shutterstock
Another major element of the comprehensive release, which is likely going to steer the entire market in the years ahead, is an upcoming audit (via the White House). The Treasury will submit an assessment report on Decentralised Finance (De-Fi) by the end of February of 2023, and another analysis covering NFT segment will arrive by June next year. The focus, moving ahead, will be on exposing bad actors and boosting communication with private players to ensure that they abide by the regulations and understand the risks of illegitimate financial activities.
The White House will also entertain proposals to create a federal framework that seeks to regulate non-bank payment providers. This move will put private stakeholders on edge, especially those with significant pools of consumer-backed digital assets. But that's not all. The crash of Terra and unceremonious shutdown of Celsius has only intensified the debate around stability of mainstream crypto assets. 
As an alternative to all that stinks about crypto and adjacent assets, the U.S. government is also considering a digitized version of the U.S. Dollar called U.S. Central Bank Digital Currency (CBCD). The proposed implications are far-reaching, from promoting economic growth and protecting consumers to safeguarding national security and staying act the helm of innovation. In partnership with relevant U.S. agencies, the Treasury will lead research into the feasibility of CBCD plans and how it can prove to be a safer and more efficient alternative to privately-distributed digital coins.
Protecting consumers takes a priority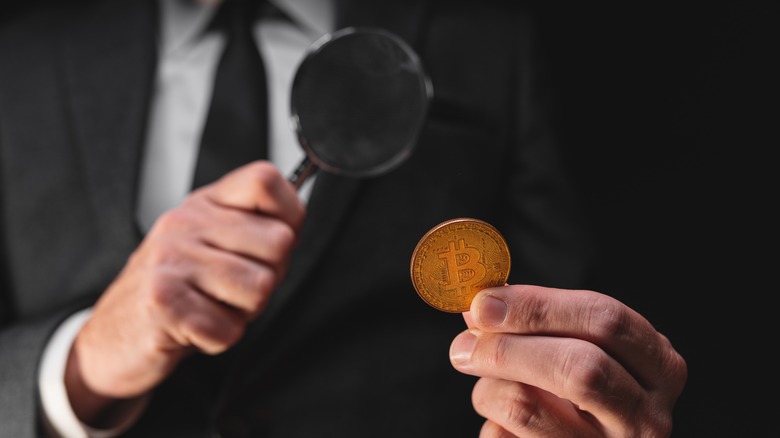 Bits And Splits/Shutterstock
The proposal from the Biden administration aims to move forward with concrete plans covering everything from transparency and consumer safety to national security and criminal activities such as laundering plaguing the crypto segment. Starting with the core objective of protecting consumer and business interests, the framework seeks to empower agencies so that they can aggressively launch investigations and take the appropriate action to curb unlawful digital assets practices (via the White House). 
To achieve it, there's a proposal to tweak federal rules so that the Department of Justice can efficiently prosecute any cases related to digital assets fraud. The Consumer Financial Protection Bureau (CFPB) and Federal Trade Commission (FTC) will double down on monitoring and discipline with regards to complaints of unfair or deceptive activities. 
The involved agencies, which also include the Securities and Exchange Commission (SEC) and Commodity Futures Trading Commission (CFTC), have been advised to proactively address consumer complaints about digital assets to ensure that appropriate action is taken in due time. Additionally, the Financial Literacy Education Commission (FLEC) will launch a public campaign covering awareness about assets like crypto coins and NFTs.
Ensuring equitable and safe access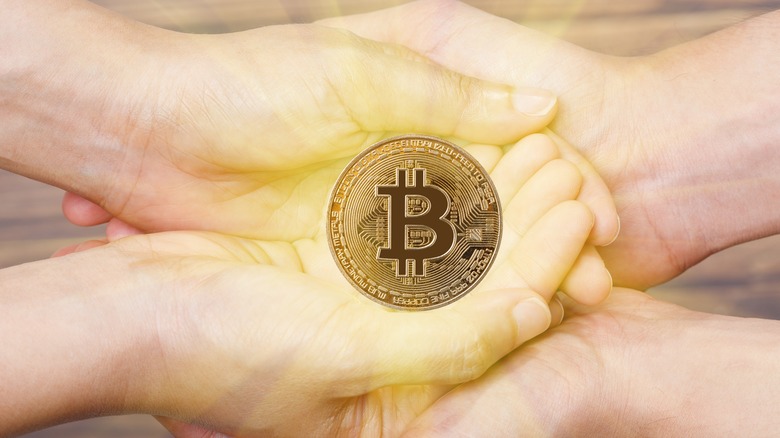 Jade ThaiCatwalk/Shutterstock
Another area where the White House plans to focus is ensuring that masses can access the digital assets market with safety guards in place and that they're able to do so in an affordable fashion. With that in mind, FedNow — a round-the-clock interbank clearance system for payments — is slated to launch next year and will be under the aegis of the Federal Reserve (via the White House). 
The White House statement recognizes that digital assets can speed up the payment process, but the Biden administration aims to ensure that this perk is accessible to all and doesn't open the doors for predatory banking practices or scams. Plus, the National Science Foundation has been tasked with research so that the digital assets market adheres to the principles of equity, inclusivity, and accessible. The aforementioned reforms aren't limited to the US borders. Instead, the plan is to go international and develop regulatory protocols for instant payments covering markets across the globe. 
Preserving the financial stability of Americans is another core focus of the comprehensive digital assets framework drafted by the White House. It's no secret that crypto investors have had their lives upended by crashing markets, criminals stealing hundreds of millions of dollar, and busted companies only making it worse for investors. With that in mind, the Treasury will collaborate with financial institutes by sharing critical information and the necessary tools to ensure that vulnerabilities are identified and handled properly.
Boosting research and risk mitigation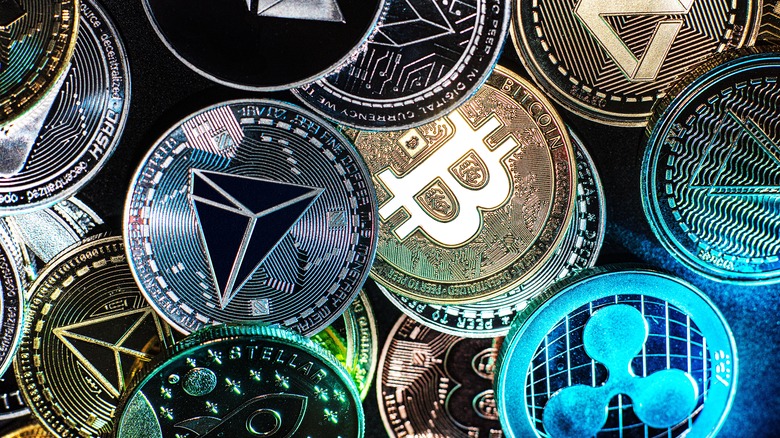 Avi Rozen/Shutterstock
All affiliated agencies will also focus on discovering and tracking any emerging risks associated with the digital assets market, a strategy that will also involve international entities such as the Organization for Economic Co-operation and Development (OECD) and the Financial Stability Board (FSB), per the White House.
Furthermore, American companies that are spearheading innovation in the field of digital assets will be educated on regulatory oversight and will also het technical assistance from the Treasury as well as concerned regulatory agencies. It is evident that the focus is on safeguarding consumer interests while also minimizing criminal activities. But the White House also doesn't want to risk stifling innovation and losing its leadership status in the international digital assets market. 
To ensure that, the Office of Science and Technology has been tasked with creating Digital Assets Research and Development Agenda in partnership the National Science Foundation (NSF) that will focus on innovation and research in areas such as cryptography (which is at the very foundation of blockchain and crypto), cybersecurity and consumer privacy, as well as educating stakeholders.
Environmental accountability is coming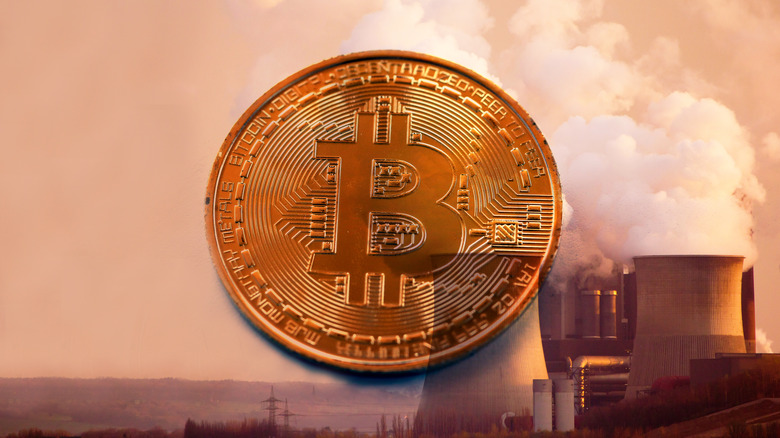 corlaffra/Shutterstock
Once area where the crypto and NFT segment has continuously caught flak is the sky-rocketing energy consumption that puts significant strain on the national energy grid and risks of lingering environmental harm such as water pollution. To address that issue, the proposed White House framework empowers the Department of Energy and the Environmental Protection Agency, among others, to actively track the environmental weight of digital assets, create performance standards, and assist local authorities with tools to ensure that their impact is minimized. 
The Department of Commerce will also lend a hand by working with academics, civil societies and government agencies towards enforcing regulations, exchanging vital knowledge, and supporting research. Additionally, the Department of Justice has also announced plans to launch a nationwide consortium of 150 federal bodies with prosecution powers to investigate and take proper disciplinary action in cases involving crypto crimes. The Commerce Department has also released a detailed report highlighting how the United States can maintain a competitive edge in the digital assets industry and simultaneously promote technological advancements in the field.