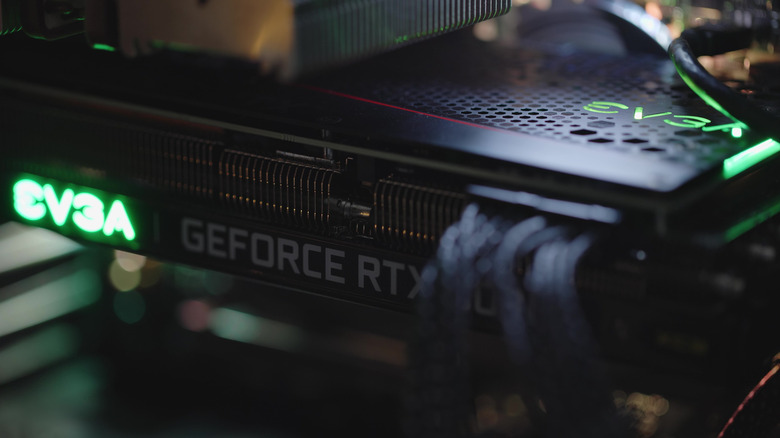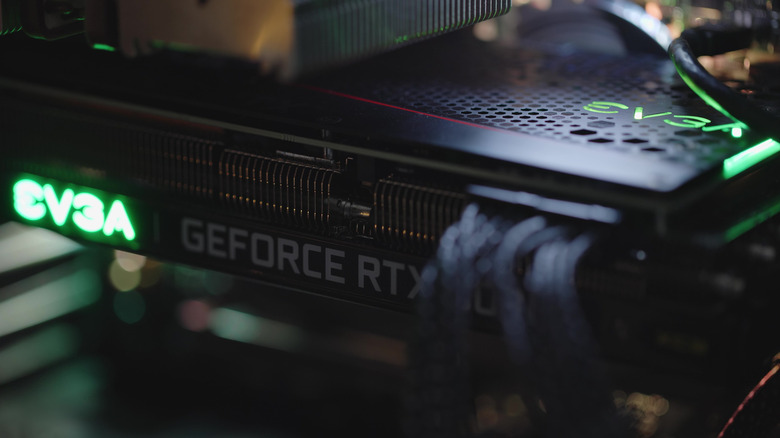 SvedOliver/Shutterstock
Nvidia is parting ways with EVGA, its biggest Add-in-Board (AIB) partner for selling graphics cards for years. According to tech YouTubers GamerNexus and JayZTwoCents, both of which reportedly attended an embargoed closed-door meeting with EVGA, the company announced that it won't be making Nvidia's coming GeForce RTX 4000 series graphics cards, or any other GPU product in the foreseeable future.
EVGA hasn't officially explained why the company is cutting ties with Nvidia, but in a community forum post, the company confirmed that it won't be carrying next-gen Nvidia GPU boards. However, it will continue to sell the current-generation Nvidia AIBs in its inventory until supplies last and will continue to offer software and customer support services, as well. Apparently, the relations between the two companies have been strained for a while, and EVGA reportedly told Nvidia about its decision in April or June of 2022.
Nvidia, on the other hand, has also refrained from providing an official explanation regarding the split with EVGA. In a statement shared with Tom's Hardware, Bryan Del Rizzo, director of global public relations for GeForce at Nvidia, remarked that the two companies have enjoyed a great partnership and that Nvidia "will continue to support them on our current generation of products."
The writing was on the wall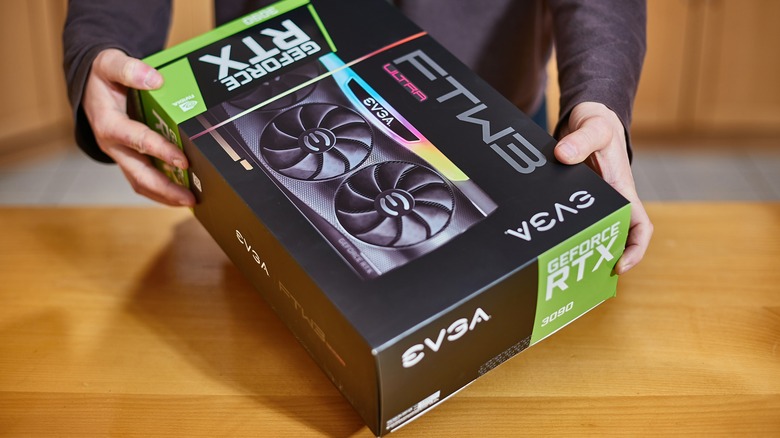 Peter Gudella/Shutterstock
Apparently, Nvidia had been keeping EVGA in the dark about crucial information such as the GPU core details and drivers right until the next-gen graphics cards were announced on stage. EVGA has cultivated a solid reputation for their custom AIBs, both for their hardware quality as well as the stellar support service that comes with the purchase. However, EVGA's exit will definitely send ripples through Nvidia's GPU universe. 
According to Jon Peddie Research, the EVGA snapped up a healthy 40% market share for Nvidia AIBs in North America. Regarding the situation with Nvidia and AIB partners in general, the report notes that as "manufacturing costs, R&D expense, and market costs have gone up, margins for the AIB partners have come down." Moreover, Nvidia's decision to start selling its own GPUs directly — and later via BestBuy — further disrupted the market dynamics. 
Nvidia currently sells what it calls Founders Editions cards that are noticeably cheaper. However, it is not just Nvidia competing against its AIB partners with an in-house first-party GPU tuned and tested by its own teams, which sounds more lucrative to a graphics card buyer. Instead, Nvidia sold these Founders Edition cards a few hundred dollars cheaper than what AIB partners like EVGA were selling the same GPU, and that is even before seasonal discounts.
What's next for EVGA?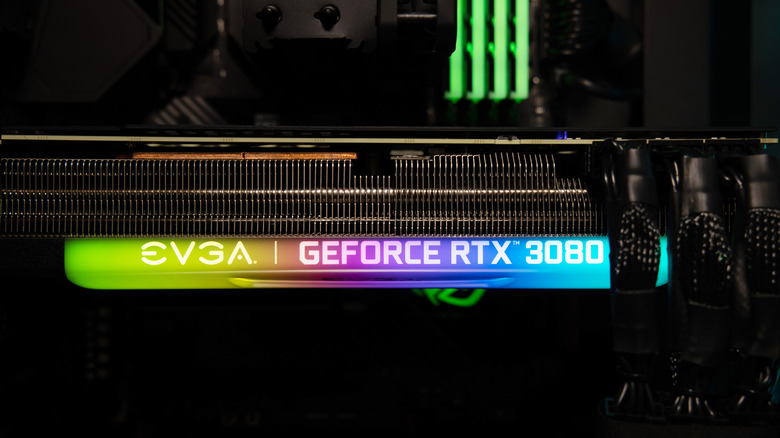 charnsitr/Shutterstock
The price margin for AIB partners like EVGA have kept shrinking over the years as they try to maintain a competitive edge in the market. Citing an EVGA executive, JayzTwoCents notes that the company still takes a loss even after selling its AIBs at a higher cost than Nvidia's Founders Edition products, which is tell-tale evidence of how dire the situation is for AIB partners. As much as it is a loss for Nvidia, it's an even bigger loss for PC enthusiasts who now see one of the most reliable GPU brands leaving the market. 
Nvidia, on the other hand, also faces tough times as the company assesses "supply chain transitions in a challenging macro environment" as it reported a significant revenue drop by the end of 2022's second quarter. EVGA founder and CEO Andrew Han reportedly has no plans for selling the company. Even though the company's biggest revenue chunk from GPUs, EVGA also sells well-received power supplies, PC cases, motherboards, audio cards, SLI bridges, and peripherals such as mouse, keybaord, and even t-shirts. 
Will EVGA now switch allegiance to AMD or Intel? There are no official plans for that, at least for now. Things might change down the road with regards to potentially partnering with Nvidia's rival-in-chief AMD, and possibly Intel, too. But that needs to happen sooner than later, lest EVGA risks losing relevance in the GPU market if it decides to make a comeback a few years down the road.